Community Artists Colouring Book Vol.1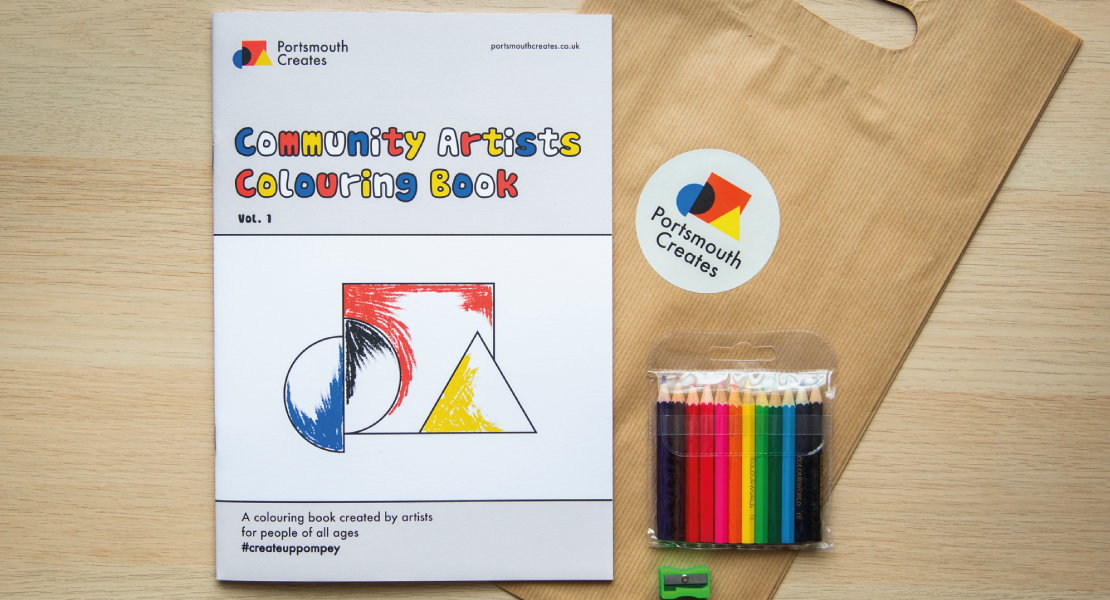 Our goal is to create a collaborative and accessible art project for the people of Portsmouth.
This art pack enables you to discover some of Portsmouth's brilliant artists, designers and illustrators, whilst participating yourself by sharing your own colourful versions of the artists work.
You can download volume one of the artpack here.
Artwork has kindly been donated by many different Portsmouth artists, designers and illustrators, ready to be coloured in, cut out and shared in your windows and online.
Portsmouth Creates has provided over 1500 free art packs (which include pencils, sharpener and this colouring book) and it is available on our website to download (PDF) for free to print at home.
The idea was for Portsmouth's adults and children alike to enjoy; either as mindfulness exercise (for all ages) or for children and families to have an additional activity.
We'd love you to post your coloured-in pages on social media using #CreateUpPompey We'll try to share as many of them as we can on our social media channels.
Then why not put your coloured artwork up in your window for everyone to see!
In these unusual and challenging times, we hope that this art pack reminds us all to dream, hope, aspire – and believe #CreateUpPompey
Keep up-to-date by following us on Facebook, Twitter or Instagram.
Prize Giveaway
To celebrate the launch of our FREE Portsmouth Creates colouring book, we've teamed up with the University of Portsmouth to give away some incredible art goodies!
All you need to do to enter is download our book below and get colouring!  ️ Then take a picture of your artwork, either in the book or in your window, and  tag us on social media using the hashtag #CreateUpPompey (remember to set your post to public)
Alternatively, you can email your artwork to info@portsmouthcreates.co.uk
We can't wait to see all your creations, Pompey! Good luck!
Winners will be selected & contacted Summer 2020