Portsmouth is a unique island city, home to world-class cultural heritage with an incredibly strong sense of pride and community spirit.
Our creative and cultural sector is populated with a wealth of diverse talent and inspirational people from all walks of life. Culture is linked to 42% of inbound-tourism related expenditure and with over 550 companies working across the Creative Industries in Portsmouth and a visitor economy worth £600m per annum, supporting 13,000 jobs, culture is integral to the lifeblood of the city.
Portsmouth Creates, founded in November 2019 with investment from Portsmouth City Council, Victorious Festival, University of Portsmouth, Arts Council England and local businesses, is a catalyst organisation, established to facilitate change, growth, improvement and to raise the aspirations and ownership of culture within the city. We believe that culture is a right, not a privilege, and that everyone deserves access to the benefits that cultural engagement brings.
By working in strategic partnerships and by fostering collaborations, we champion inclusivity and strive to improve access to arts and culture so that everyone within the city, regardless of background, can engage with what the city has to offer, from school children who have low levels of literacy and who may never have visited the beach, through the older generations, isolated during the Covid-19 pandemic.
Our vision is to pioneer a cultural-led regeneration, raising the bar and collaborating with our neighbors in the Solent, enabling Portsmouth to become revered as a city of creativity and culture.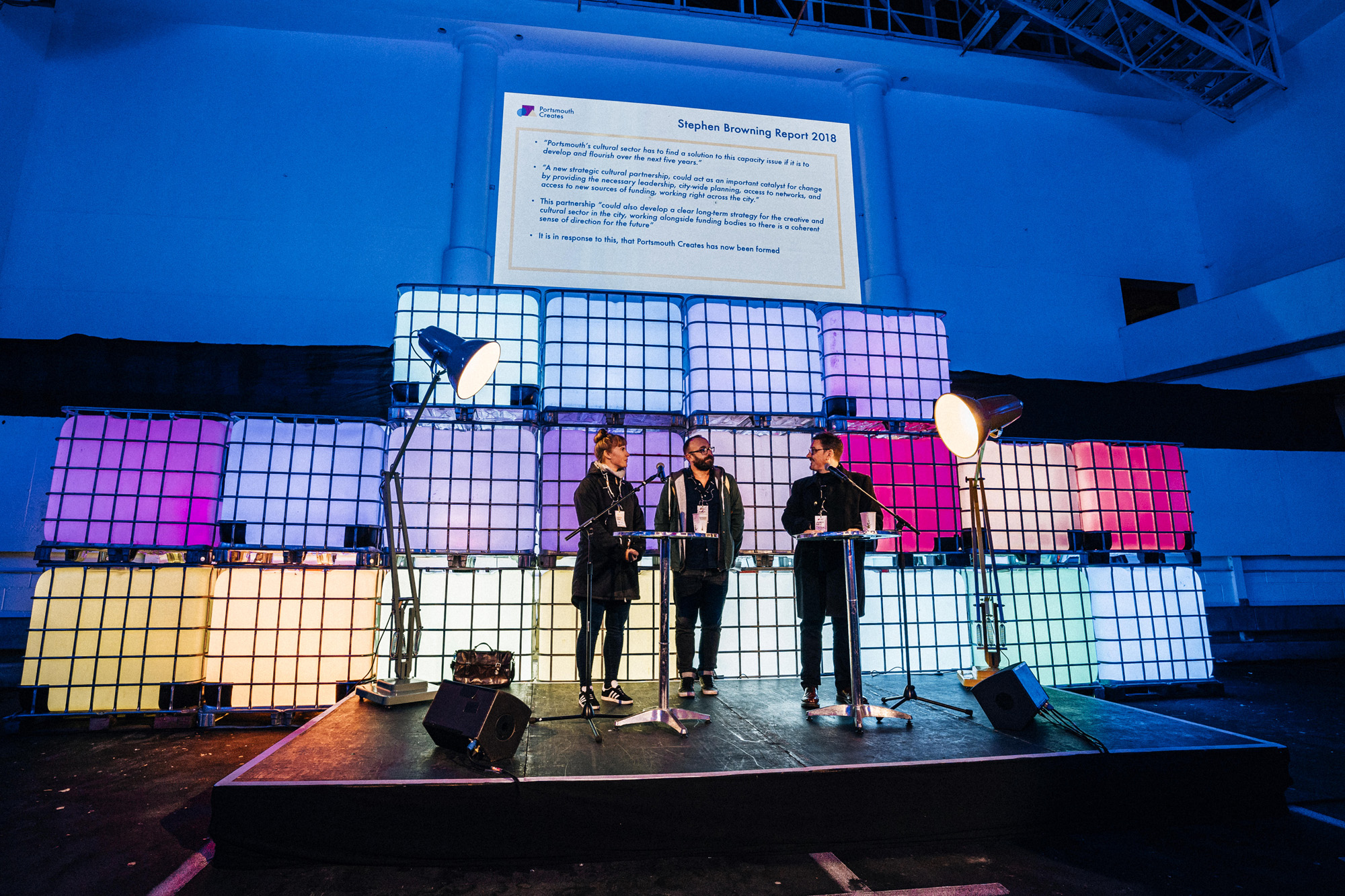 Passionate & Creative
We love Portsmouth and want everyone to experience how brilliant it is!
Ambitious & Visionary
We've got big ideas and we aren't afraid to try them.
Honest, Genuine & Transparent
We truly believe in what we say.
Accessible
We want everyone to be able to enjoy Portsmouth's dynamic cultural scene.
Independent
Both politically and culturally.
Courageous & Bold
We're yes people who get things done.
Unpretentious
Culture isn't just art galleries and opera. It's all around us!
Rooted in the community
We believe in Portsmouth and it's people.
Our Volunteer Kickstart Directors
How we are funded
Total funding so far (year one) = £200,000
The University of Portsmouth
Portsmouth Creates is a CIC (Community Interest Company). That means we need donations, investment, funding and sponsors to continue.
To find out how you could support Portsmouth Creates email info@portsmouthcreates.co.uk.