We Create Market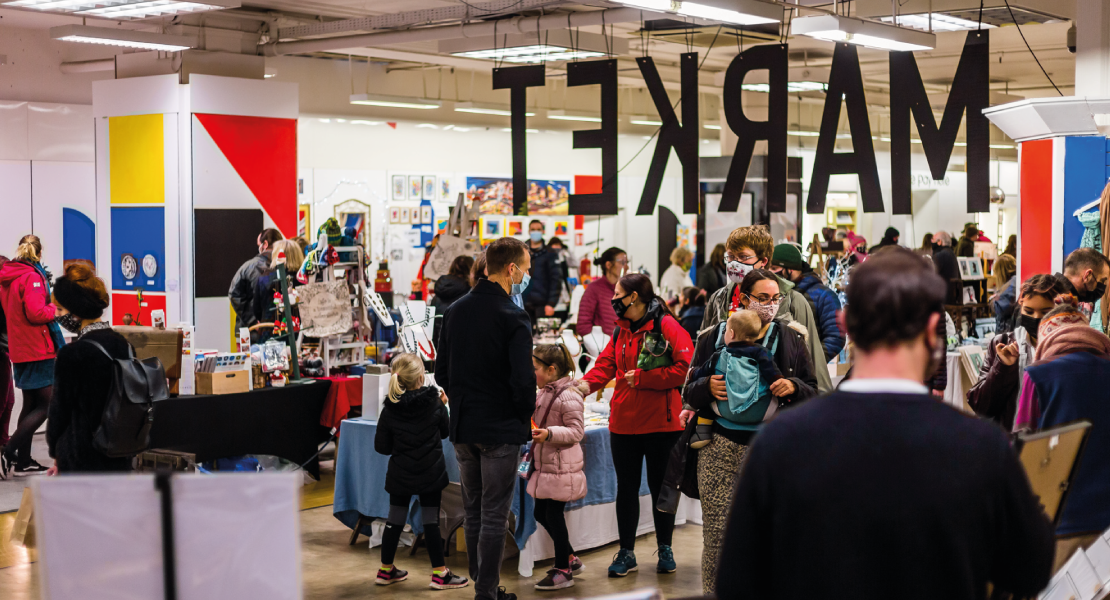 We Create market was born out of necessity for a large, indoor, affordable and covid-safe space for local creatives to exhibit and sell their products during the challenging times of the pandemic. Many of the usual trading opportunities became unviable due to the challenges of adhering to strict covid-19 safety regulations in small venues.
Cllr Steve Pitt, Cabinet Member for Culture and City Development & Deputy Leader at Portsmouth City Council, identified the need for immediate support to provide a potential lifeline for those struggling within our creative sector. He sought the support of National Regional Property Group, who manage the old Debenhams building in Southsea, and approached Portsmouth Creates, to build the collaboration necessary to achieve a covid-safe indoor market; a practical solution to a real issue by drawing upon the combined resources and expertise of those within Portsmouth's creative community.
September's pilot market (Saturday 12th and Sunday 13th), was a resounding success, and following positive feedback from traders and visitors we expanded the subsequent markets in October and December to utilise the entire ground floor of the building. This enabled us to accommodate over 180 local exhibitors over the 3 market weekends with subsidised pitch prices to make it as affordable as possible. Unfortunately, the November market was cancelled due to lockdown restrictions, thus we brought all of our exhibitors together online to create a virtual market directory to provide further exposure and sales opportunities and encourage people to continue to shop locally from the comfort of their homes.
The markets brought together a host of talented local creatives and saw a diverse and unique range of products on offer, from fine art prints, ceramics and wood carvings to hand made jewelry, clothing, macramé, homeware, and gifts. An 'Open Studio' window was 'taken over' by a different creative for each market who made the space their own and interacted with people queuing to enter the market. These included live drawings from local artist Joe Munroe and a colourful mural designed to create a 'selfie space' by local artists '2 Sisters.'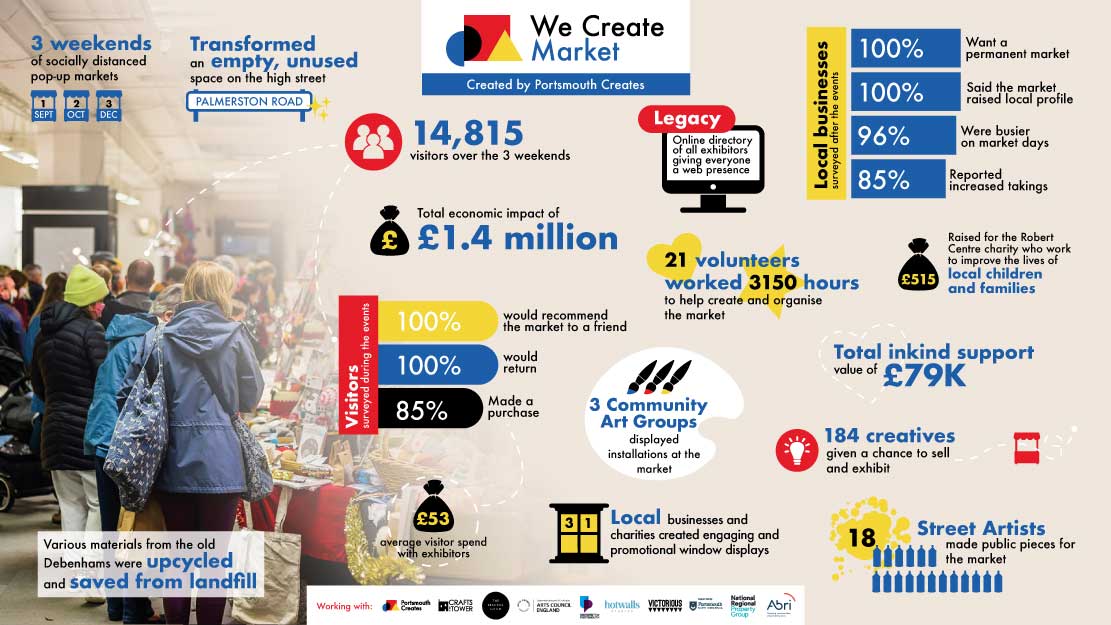 Local revered artists adorned the outside walls with incredible street art and exhibits inside included community projects such as 'Eye Sea Squares 2020,' a 16 metre tapestry created by visually impaired members of the community and a 'Wall of Love,'  created by school children from Victory Primary School during lockdown.
Those visitors with a fondness for our city's impressive past were treated to an exhibition from Portsmouth History Centre entitled  'Palmerston Road – Change and Renewal' which showed Palmerston Road before and after the Second World War, especially the post war reconstruction of the road.
The markets were a resounding success, not only in terms of supporting local creatives and providing sales opportunities but also in terms of collaboration, relationship building and community spirit. They demonstrated what can be achieved by pooling resources and expertise within the city.
Collaborators included Victorious Festival who co-ordinated and managed the market as a gift to the city, Crafts in the Tower and Hotwalls Studios who assisted with cross-marketing and promotion of sellers. Makers Guild created the We Create Market website and fabulous exhibitor webpage. University of Portsmouth whose faculty of Creative and Cultural Industries graduates showcased their work and Aspex Gallery showcased their  'Luna Park' 10 year anniversary project. Portsmouth Distillery helped to keep us safe by donating a vast amount of their locally produced hand sanitizer.
We Create Market was born rapidly out of need for sales opportunities, however, it achieved much more than we could have imagined in the short time. Feedback from surveys of traders, shoppers and local businesses confirmed this and the number of visitors it brought back to the local area had an immensely positive impact upon the local economy.
We'd like to say a huge thanks to all of our supporters for their help in achieving this and in particular to Victorious Festival whose support in kind has been immeasurable.