Take Time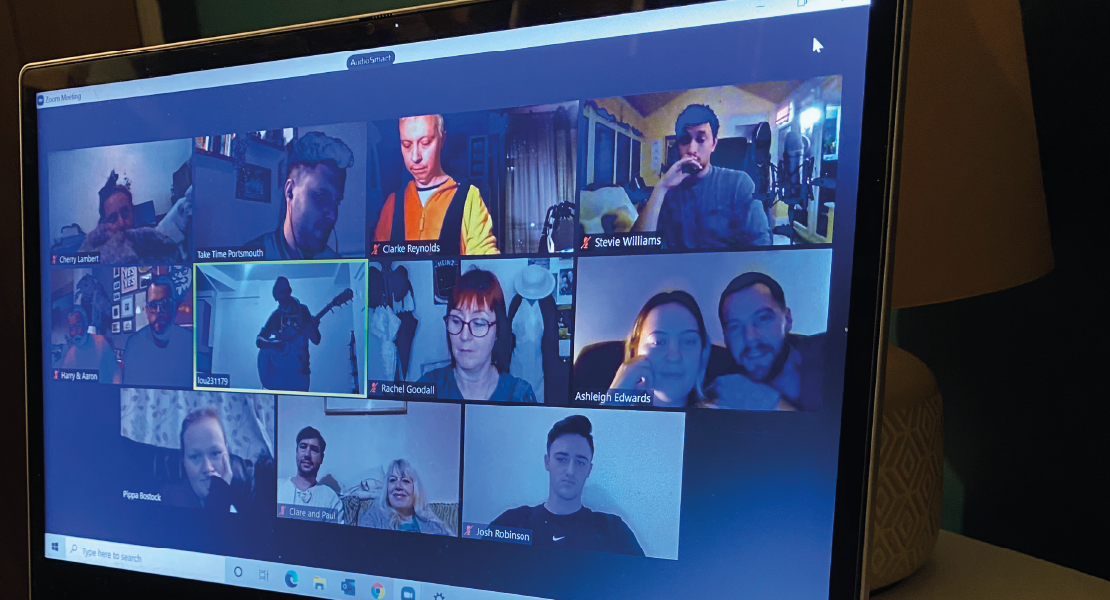 November 8 - April 29, 2022
The Portsmouth Creates team are proud to be supporting 'Take Time Portsmouth,' a digital initiative, set up and run by the talented and inspirational local creative Ben Clabon.
Take Time was conceived to enable creatives across the city to connect via an online platform during lockdown when opportunities for face to face interactions had become pretty much impossible.
Following on from research we conducted for the DCMS call for evidence to explore the impact of covid-19 on the creative sector we discovered that a desire for pastoral support was a key theme highlighted amongst local creatives. We knew that people were suffering from a lack of interactions that were an essential part of daily life as a creative. Take Time provides online sessions via Zoom once a week to provide a safe and inclusive environment for creatives and enables them to explore and demonstrate new ideas, share research, meet like-minded people and forge new connections and collaborations.
The platform is free and completely inclusive, welcoming anyone with a creative interest, at any stage on their creative journey, whether they are just starting out and seeking peer support or are established within the creative community and perhaps looking for inspiration and feedback for new ideas.
Workshops have been diverse and include Origami, Puppetry, Drama for Zoom and Mental Health & Creatives with Ian Hurst- 'We are Hummingbird.' The sessions have also provided a platform for meets and shares with MP Stephen Morgan and Cllr Steve Pitt – Portfolio holder for Culture in Portsmouth.
Ben says:
"I started the idea for Take Time Portsmouth as I felt slightly stranded  as a creative in this vibrant city, I have always been outgoing and been able to put on brave face at a social or networking event but I don't have that  forum anymore! I just thought how great it would be to have a safe place to have a virtual cuppa or something stronger and "Share, Connect, Support and Take Some Time".
Ben's aims for the Take Time forum
SHARE:
To take time and share your practice with others, have the option to have a go and learn a new skill, or try something for fun and to support your well-being
The ability to gain constructive criticism or just the need for a safe audience? Safety net to share a new piece of writing, song, painting or anything that falls within the creative field
CONNECT:
As creatives, it is important to be able to connect with other creatives and have the chance to connect, thus providing opportunities for future collaboration
SUPPORT:
We want to help to break down perceived barriers by helping to empower creatives with knowledge, whether it be sharing advice from private bodies and supporters of Take Time or individual creative knowledge amongst peers
To be able to support creatives with creating work during the Covid-19 timescale but also after this period
Take the time to listen to creatives' worries and concerns and guide them towards funding bodies and other supportive platforms
TAKE TIME:
This is one of the most important aims: we want to encourage creatives to take time to take a breath, have a moment to communicate with like-minded individuals, and support positive mental well-being.
Testimonies
"Take Time is an opportunity to meet with likeminded creative individuals in the Portsmouth area to have some fun, collaborate and meet new people. Ben has been delivering fun and engaging classes with visiting Professionals and allowed the group to share its thoughts to local government. It's an asset that can only grow from strength to strength."
James Freelance Film Producer
"Take Time gave Splodge Designs the opportunity to meet up with other creatives, discuss each other's practices, look at ways forward in these uncertain times and spend time together socially. Take Time has been a place where people can share the way they work and their experiences in an open and honest way.  It has been supportive and genuine.  Ben Clabon has been a fantastic charismatic host who has been dedicated and committed to provide genuine support to working creatives within the Portsmouth area."
Clare and Paul from Splodge Designs
"TT has been a therapy for me, and has helped to bring part of myself back, to find the direction i want, and dive in!!- im not wasting any more time! TT is something i hope can continue and grow, to welcome new creatives and build a strong and supportive creative community."
Liz Freelance Creative