We Believe – Expressions of hope & optimism for our city beyond Covid -19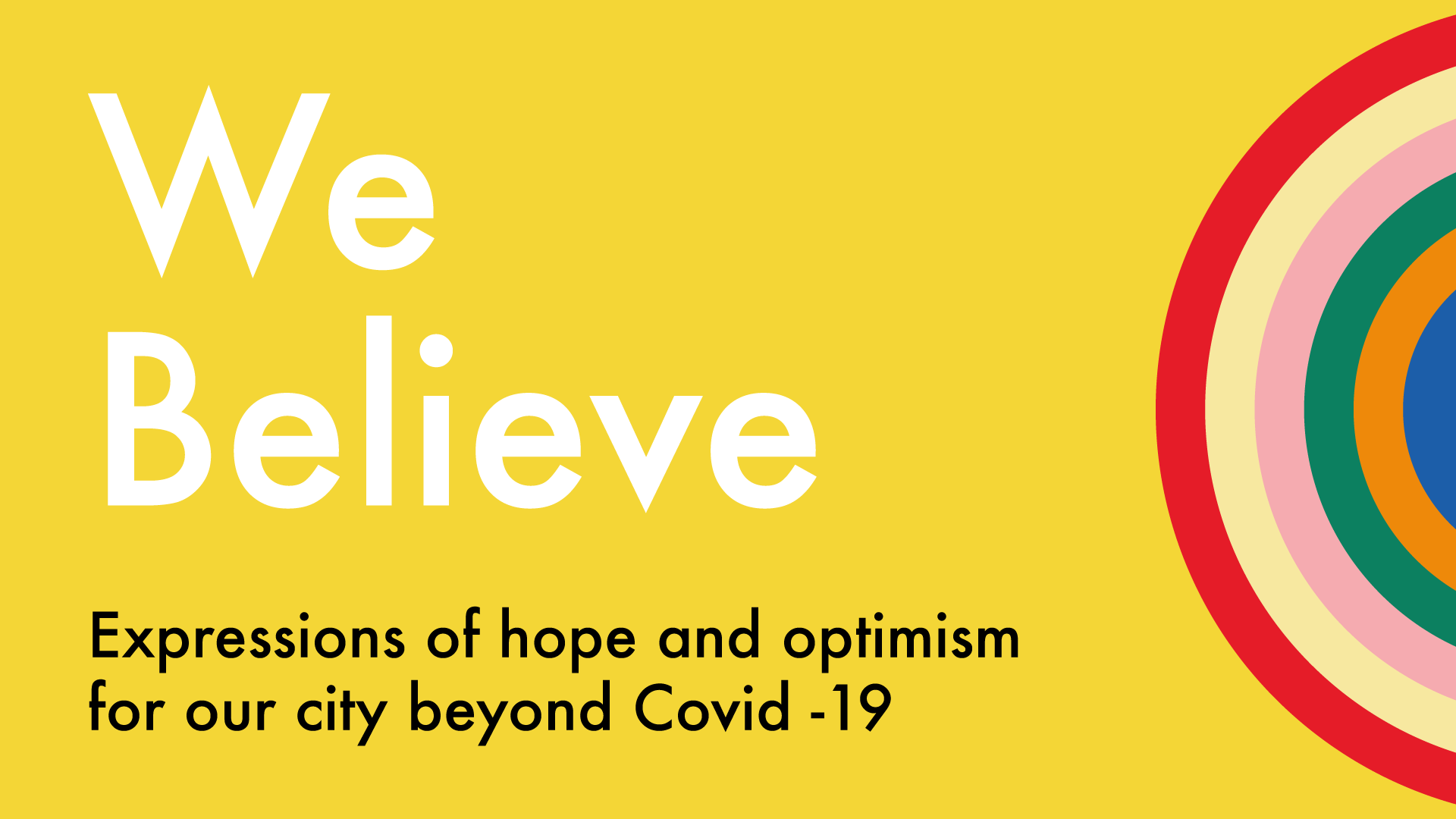 Help supporting our creative community  
Portsmouth is a city like no other, with unique heritage and a rich cultural tapestry. The city teems with creative potential and it has been wonderful to witness the strong sense of community that has gone to a whole new level through these difficult times.
Art across our beautiful city has really stepped up over the lockdown period too, through the billboard art project to the community art colouring book, windows in people's homes awash with colour – creativity has been all around us, spreading positive messages to all.
During lockdown, Portsmouth Creates, on behalf of Portsmouth's creative industries, answered the call for evidence from the Department for Culture, Media & sport (DCMS) into the impact of the Covid-19 crisis. Local creatives and businesses within the creative sector responded to our survey to provide a clear insight into the impact of the pandemic upon their creative practice and businesses. The findings highlighted the direct impact of the pandemic on the creative sector as a whole, including its detrimental effects on the income and opportunities for freelance artists; many of whom were not eligible for financial support from the government, with a knock on effect on both their personal and family lives and an uncertain future.
As a response to this we want to act quickly by immediately working together with the community to begin to support 20 emerging artists within Portsmouth. Pledging support will help to create a colourful, positive and free 'street exhibition' of poster artwork around the city, sharing with all the incredible work lovingly produced by our very own creative sector in the city
We Believe – creating an open-air arts trail & supporting local artists!
This project provides an opportunity of £500 micro-commissions to 20 local emerging artists who have been unable to access financial support via the 'Small Business Grant' or 'Retail, Hospitality & Leisure Grant.'
Not only will this investment in to our city's upcoming artists and designers offer a financial lifeline, it will also offer an opportunity to showcase their awesome talent and help to raise the profile of the bustling cultural scene and hotbed of creativity we have within Portsmouth. These new commissioned pieces will fill our city's outdoor poster boards with original and optimistic artwork and create a fun, physical art trail along the seafront and in the north of the city, for everyone to be inspired by and enjoy as we transition in to an uncertain post-lockdown world.
How much do we need? Let's start with £2,500 to unlock more…
The campaign target overall total is 10k.
However, we have applied to PCC's 'Small Business Fund' via their crowdfunder scheme to fund half of the target.
This application will only be considered when we hit £2.5k of our target……please help us to unlock this potential!
With a number of different rewards available when you pledge you too can own some very special and original local artwork by these exciting emerging artists.
Each piece will be part of Portsmouth's story of community and creativity during the most difficult of times.
The project theme is simply:
We Believe – expressions of hope and optimism for our city beyond Covid-19
We are super excited to see the artists interpretations and the unique artworks it will inspire. We really do believe that together, as a city, we can make a real difference to each other and build for a new future post lockdown. At a time when the 'support local businesses' phrase has perhaps never been so eminent, please help us to extend this support to our local creative family.
Whether you are a life- long art lover – or have newly discovered your love of our local artists – please help us to support them by providing this opportunity for them to shine and to make sure our artists rich with potential are there when we really do need them the most.
This short-term investment in these emerging artists not only has an immediate positive impact on them but it means we can sow the seeds of a stronger and more vibrant arts and cultural sector in Portsmouth and a future packed with creative potential. Let's take this opportunity to show everyone just how amazingly cool Portsmouth really is…
Please pledge to support our wonderful local artists on our Crowdfunder page.
Artists
If you are a local artist who would like to find out more about applying for a 'micro-commission you can find out more within our application form and terms and conditions below (closing date for applications is 22nd June 2020 so don't delay)
'We Believe' artist application form (word doc)